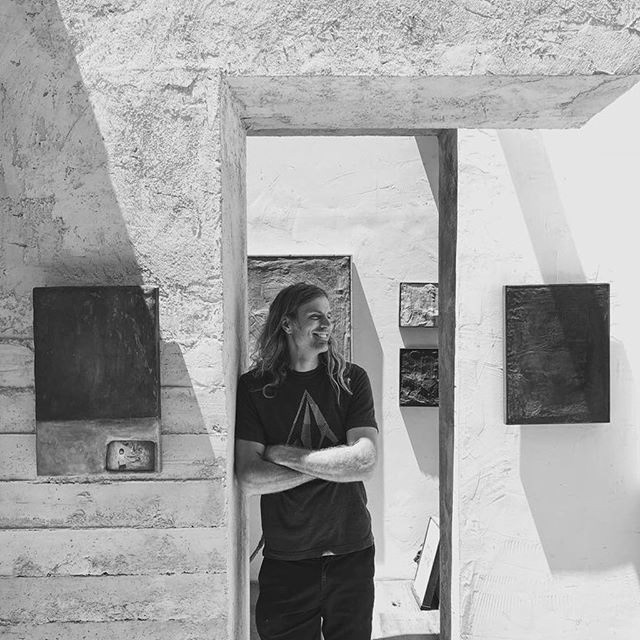 Isaac Anderson was born outside of Seattle in the late 70s, to a father with glass blowing skills and archery accolades, and to a mother with a delightfully creative mind and darkroom equipment—the sky was the limit.   Twenty years later, armed with his grandfather's 35mm Minolta and a passport, Isaac's passion for photography was ignited.  This developed and broadened into documentary filmmaking, which opened the doors for travel to many unique and textured places around the world. 

These diverse and ethnographically rich experiences resulted in an education that was full of curiosity and artistic freedom.  A longing to explore new ideas, places, and cultures; outside of social and enigmatic constraints, helped develop and form Isaac's divergent artistic background that is embodied in the texture and richness of his multidimensional work.
In 2004, Isaac began experimenting with gypsum plaster, along with embedded photography; invoking a timeless window.  These early pieces caught the eye of a Southern California gallery owner, which expanded  to more galleries and developed into a fine art career that has spanned almost 20 years.  
Isaac received his BA in communications/electronic media, having studied in the Pacific Northwest, Chicago, and England. He has spent the past several decades being refined and challenged through the arts, including mixed media, photography, and sculpture. His works have been featured in openings, galleries and private collections around the country, as well as in several Walter Foster publications.
Isaac resides with his wife and children in Southern California, continuing to explore new and inventive ways of telling stories through the arts.